Jemaine Archer has been in prison since 1998 for murder, but his wife Michelle firmly believes in his innocence. The film 'For the Time Being' by Nele Dehnenkamp is about Michelle's fight for justice. Michelle dedicates her life to trying to secure Jemaine's release. Is their bond strong enough to withstand 22 years of separation?
In 'For the Time Being,' filmmaker Nele Dehnenkamp follows Michelle over seven years.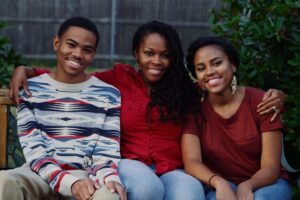 We see how her two children grow up and move away, and Michelle dreams throughout this time of a simple, peaceful life with her husband. However, the US justice system continually places obstacles in their path.

The film provides the perspective of the families of incarcerated individuals and sheds light on the relentless battle against the injustice of the US justice system.
'For the Time Being' is part of this year's German competition, and Nele Dehnenkamp and her protagonist were guests at the DOK Leipzig festival. We took the opportunity to speak with Michelle Bastien-Archer."
Seven years is a long time, and during that period, Nele Dehnenkamp accompanied Michelle closely. There were moments when Michelle broke down in front of the camera multiple times, but Michelle mentions that Nele handled those moments with great sensitivity: "She knew when it was time to turn off the camera and give me a little space."
After over seven years, Nele Dehnenkamp and Michelle Bastien-Archer's "project" is now complete, and the reactions at this year's DOK Leipzig were very positive. During the film discussion, one viewer said, "You are two incredible women, thank you for this film, and thank you for being here!"
Miriam & Feline