The COVID-19 pandemic took us all by surprise. However, while some were paralyzed by this surprise, filmmaker Nikolaus Geyrhalter chose to document the crisis from the very beginning. The result is "Stillstand," a documentary film about the first three waves of COVID-19 in Austria.
From a technical perspective, the film is impressive mainly due to the familiar long, uninterrupted shots characteristic of Nikolaus Geyrhalter's work. There are no camera movements or musical distractions to divert from the film's central theme: "Stillstand" or standstill.
As the world was engulfed by the Coronavirus, everyone was forced to pause in their usual daily routines. The footage of deserted airports, swimming pools, and playgrounds vividly illustrates what this period looked like.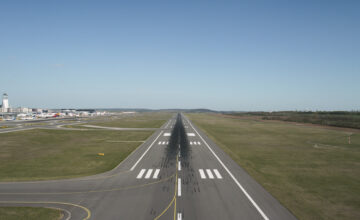 The director actively utilizes this observational style of documentation to encourage viewers to contemplate things for longer than they might have intended. In doing so, he creates a space for people to engage with their own emotions.
The otherwise prevailing silence in the film is intermittently broken by engaging conversations with a diverse range of interviewees. These different perspectives on the pandemic provide a welcome variety.
Nikolaus Geyrhalter effectively uses emotionally charged imagery to evoke feelings from the past and connect with all viewers thematically.
We personally find documenting the pandemic to be necessary and right. When future generations look back on these events, this documentary will aid in remembering and underscore the narratives. However, we can imagine that future generations who did not experience the COVID-19 crisis firsthand may have a harder time fully understanding the emotional and sometimes traumatizing impact of that period.
Contrary to the announced emotional aspect of the film, it refrains from delving into the feelings and thoughts of those affected in depth. During the post-world premiere film discussion on Monday, Geyrhalter explained that this was a deliberate choice. Portraying psychological impressions would be too complex. While we can understand this decision, it did leave our expectations only partially fulfilled. The absence of the voice of youth also disappointed us.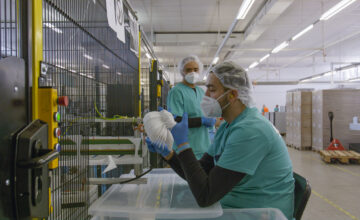 The film gives voice to various segments of our society, from medical professionals in hospitals to shop owners and older patients, encompassing all age groups except for teenagers.
While the film provides some glimpses into the homeschooling routine, a humorous park scene, and features a teacher, it lacks emotional depth for us. Despite the film repeatedly addressing how the pandemic has affected the younger generation, the actual affected individuals are surprisingly underrepresented in their narratives.
It's interesting to note the generally optimistic and hopeful attitude of all the interviewees in the film. Personally, we experienced contrary feelings during the COVID-19 crisis, which is why we often couldn't relate to Geyrhalter's documentary.
One quote from a medical professional stands out: "The realist alone is happy, for he recognizes progress." We would consider ourselves "realists" but often felt more helpless than happy during the pandemic. Consequently, we found the consistent optimism in the conversations in "Stillstand" somewhat mismatched with our own experiences.
Zusammenfassend können wir festhalten, dass Nikolaus Geyrhalters "Stillstand" eine gute, wenn auch unvollständige, Dokumentation der Pandemie in Österreich darstellt. Dabei war es interessant, unsere eigenen Erfahrungen aus der Corona-Krise in Deutschland mit der Pandemiesituation in Österreich zu vergleichen. Wir würden den Film allerdings nicht direkt weiterempfehlen, da wir uns oft nicht angesprochen gefühlt haben und daher keinen persönlichen Bezug aufbauen konnten.
Ida & Nora