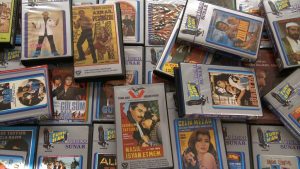 Every year the DOK Festival portrays a country and its documentary film scene. This year Turkey was in focus. The curator of this project is Özge Calafato, a Turkish journalist and photographer. Since January she has been developing the program with eight subtopics and 18 films which were to be seen in this years Turkey focus. During an interview with the DOK Spotters Miron and Moritz the curator gave an insight into the development of the Turkish documentary film industry.
However, the rapid development in the scene has also brought up difficulties. Only ten percent of the Turkish movie theaters are independent, whereas the rest mostly belongs to shopping malls. Filmmakers often struggle with the financing of their movies. This leads to cooperation's with other countries. Also does the difficult political situation complicate many things for film makers.
Some topics are very delicate and the possibilities of screening are limited. As for example during a film festival in the Turkish city of Antalya. A film was cut out of the program, because it apparently showed disparaging content in reference to the Turkish president. Also the directors pressure themselves.
Many films in this specific country focus touch on the societal and political problems in Turkey. Furthermore, are the Kurds and their war against ISIS part of film portrayals.
The short film "Distant" shows two Kurdish female fighters in Kobane and their resistance against male oppression. Also the genocide of the Armenians and its consequences in Turkey is a topic in various films.
However, we also find some things to laugh about in Turkey. In the film "Remake, Remix, Rip Off" the director Cem Kaya allows us a great insight into the Turkish film industry of the 60s and 70s. Cheap remakes and absurd adaptions characterize the film scene during those years. The Turkish version of Star Wars from then is still described as one of the worst movies ever.
This years Turkey focus gave the audience a multilayered insight into the countries documentary film scene and enabled an uncensored safe space for these films.
By: Miron and Moritz