David Silverman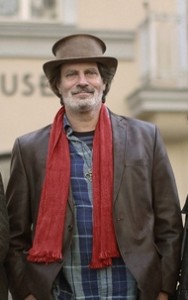 3 adjectives that describe you: engaged, inquisitive, open minded
Interests – besides work: I play the Tuba and I study music and of course I do some sports, but when you get older you do less sports and watch more.
Which film has impressed you lately and why? I really like animated films. I really liked "Inside Out", that was brilliant, a very brilliant film and I just saw Spielbergs latest film "Bridge of Spies", which I thought was very interesting.
What is your wish for the next days? Having a great time, seeing great films and playing some music late at night.
Almost everybody knows the little, yellow family from Springfield. The five clumsy heroes accompanied a lot of us through our childhood and adolescence. Of course we are talking about "The Simpsons": The series has been running for more than 20 years now. And David Silverman has been part of the team from the very beginning. The American animated the first episodes of "The Simpsons" and didn't finish till now.
This year David Silverman is in the jury for short documentaries and animated films. Who could be a better judge for this, than the best-known animator of the worlds famous animated series? David Silverman is a very good tuba player as well. At DOK Leipzig he proved this just in front of the festival center.