"When the Bull cried" is a belgian-bolivian documentary movie by Karen Vázquez Guadarrama and Bart Goossens.
A tiny village lies between the enormous Andean of Bolivia. Above, heavy clouds pend, beneath lies an icecold turquoise mountain lake. The inhabitants earn their money through the degradation of silver and other minerals. Often parts of the miens collapse during this dangerous work and bury workers between the never-ending stones.
The village people have found different ways to deal with losses: alcohol, coca-leaves or seemingly grotesque superstition.
I found the film very good. It shows the brokenness of the inhabitants in a very interesting way, which in a balance act between life and death.
The whole village seems depressed in a way, as if a big, black veil lies upon the people. Some of them seem to have found peace with this, whereas others don't want to give up on their dream to live far away from the mining. With the help of wonderful pictures, the film shows the contradiction between the breathtaking landscape and its extremely sad inhabitants. It gives an insight into a completely different society and culture, one that I could have never imagined.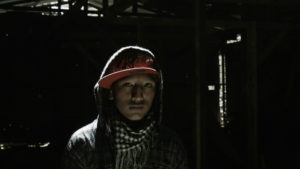 The people speak about their extremely excruciating experiences in a very open way. Very subtle and without any judgment does the film show that drug consumption and superstition have become very reasonable ways to deal with their sorrow and pain. And this although these means lead to a vicious circle constituted by death, drugs and aggressions.
However, there is always a new inflaming hope put on one big discover, which will free the workers. With the help of sacrifices the people want to calm mother nature or maybe just calm themselves, as everywhere the boundaries between belief and religious fanaticism blur.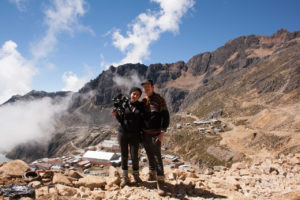 "When the Bull Cried" by Karen Vázquez Guadarrama and Bart Goossens really impressed me, not only with a well chosen story. The pictures are breathtaking and the editing is pleasantly set. The music convincingly underlines the story and lets everything seem a little more authentic and raw.
"When the Bull Cried" is, all in all, a film that subtly tells a piercing story.
Review by Emily Pfeiffer