The DOK festival is not only for grown-ups. For this reason the special program KIDS DOK also takes place. Different short animation films are compiled for different age groups.
We steaped into the "small world" and watched some films for children from three years on together with them. After the movies we asked three kids and their teachers how they liked the movies. Jumbled, the children told us about their favorite films.
"Koyaa – Wild Sunbed" was selected as the funniest animation film. The content was described like this: "There was a chair which ran away from a person, which was supposed to lie on him, a sun chair. Because he was a horse, even though he didn't look like one."
The other film which stuck was "The Small Bird and the Caterpillar".
"The caterpillar wanted to eat the leaves of the bird. She just climbed up the tree and ate the leaves. Then the bird took a branch which still had a leaf." A running gag follows in this short film, which was the funniest of all for the children: "Then the caterpillar farted onto the bird. The bird ran away with the branch and the leaf and the caterpillar continued farting onto him."
The filmmaker of Mademoiselle Noudelle was there for the first movie. It was about a young girl who builds a bed out of a lasagna plate. One impressing detail of the film stuck with the children: "The girl cut something but she didn't use scissors but a scooter." All in all, the children seemed very pleased. They all answered with a very loud yeeeees, when asking them if they would come back next year.
The teacher also answered two questions before leaving. He told us that he also visited the festival with a group of children. At least since he found out about KIDS DOK by a mother, who coordinated the DOK Festival. This time he couldn't watch the movies because he had to wait outside with a child who got scared in the dark. But he liked the films of the last years since "they had good content and nice pictures".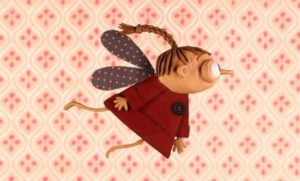 We believe that the animation films were selected quiet well and that the children really liked it. Some even tried to teach the children a lesson in a cute and funny way. For example did "The Mosquito Pieks" not only make mosquitos seem more sympathetic, but also show that it pays off do good deeds: treat others like you would like to be treated. It however is not clear if the children understood this message.